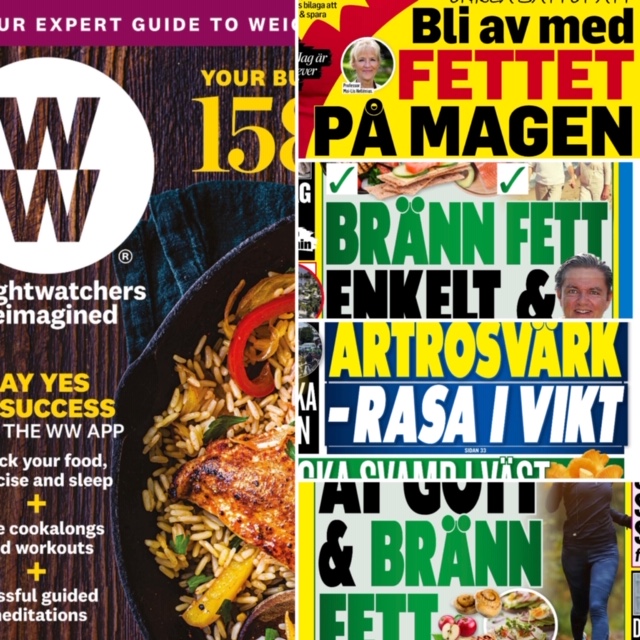 Virtually all our patients have tried to lose weight at some point before they eventually come to us. The stricky thing about all the calorie counting/dieting ("just move more and eat less…") is that it seems to work at the beginning -you lose weight the first 1-2-3 weeks. Then sooner or later there will be a plateau phase, followed by a gradual weight gain, as a rule, to a higher final weight than the one you started at. The biological cause is the body's internal weight thermostat ("set point"), which we told in more detail about in previous posts (see, for example, this blog from us, this article from Baribuddy or this information film). The result is that the risk of weight gain within five years after a diet is 95-97%. (This risk is something that the dieting industry never tells you about. And for obvious reasons: they have a turnover of 300,000,000 SEK per year in Sweden alone.).
Yo-yo dieting
The end result, weight down and then up again, is what you call "yo-yo-dieting". But is it that simple? "Yo-yo" indicates that you easily regain your weight after a diet, but also suggests that you may not have very much to lose – the worst thing that can happen is that you are back on "square one". Or?
… set point up
Unfortunately, it's not that simple. What typically happens after a failed diet is that the brain's set point is elevated by 2-5-8 kg (you regain more than what you lost in the beginning). Thus, the dieting triggers the brain to want to weigh even more. Most patients we meet describe how the first half of their gained weight probably came from genes + environment + a trigger (knee injury, smoking cessation, disease, etc.) -but that then the repeated yo-yo diets themselves pushed up the brain set point the remaining extra kilos. A diet risks triggering the body's defense against starvation, and afterwards the set point is even higher. (It would therefore have been better to avoid the diet and instead accept the original weight.)
Permanently altered biology à la Biggest Loser
The next problem is that several of the mechanisms that counteract weight loss never disappear – even though you regain weight. The most famous study of this was done in the United States on a season of Biggest Loser participants. The study measured the contestants' metabolism as well as various weight hormones before competition (when they had a large body), at the end of the competition (when they had done massive weight loss) and six years later (when all but one had regained all the weight again). Results: metabolism and the saturation hormone leptin were -as expected -clearly lowered immediately after the competition. What surprised however was that six years later, despite weight regain, the participants still had a lowered metabolism and lowered leptin(!). Dieting had thus permanently impaired the weight physiology of the participants.
Yo-yo dieting causes a change in body composition
For example, if you lose 10 kg with any traditional diet, you have not lost 10 kg of adipose tissue; you have probably broken down 7-8 kg of adipose tissue but at the same time 2-3 kg of muscle mass. Less fat is good, but less musculature is definitely not good. When you then regain the kilos back, let's say 12 kg up, then in the worst case it is 12 kg of adipose tissue –no muscle mass. Failed dieting thus remodels the body's composition for the worse. If you imagine that a person living with a large body makes repeated diets maybe 5-10 times in life, then you understand better why muscle pain, fatigue and impaired strength is so common -the person has lost more and more muscle mass.
… and lower self-esteem
In the end, we have the psychological aspect: repeated failure at weight loss is extremely psychologically stressful for the person himself. Most people blame themselves for weight failure (you have "lack of character" and so on) and people around them (often including health care staff) indirectly confirm this by agreeing, or not contradicting.
Dieting -warning issued!
Thus: one can defend the idea of one serious weight loss attempt through changing lifestyle habits or some type of diet program. This is to see what your particular set point for weight in the brain "accepts" regarding weight loss: 3-5% of us have a set point that is more flexible (and one can then imagine that weight loss can persist even in the long run). The other 95-97% will have a fixed set point corresponding to their higher starting weight -thus it will be a yo-yo effect. If you experience this, repeated new dieting attempts are potentially dangerous to your health: set point will be pushed upwards more and more, the body metabolism will be lowered and the level of saturation hormones will be lower, your body will be remodelled to less muscle mass and you will feel worse and worse psychologically. Better if possible to accept the weight you have and instead try to avoid further weight gain (here the concept "Best Weight" can be used, read more about this here). The alternative will be to choose treatment methods that lower the brain's set point, i.e. medical treatment or obesity surgery.
What we are strongly opposed to is the almost reckless view of diets as something where the customer has "nothing to lose": weight loss advertising and products are marketed through pharmacies, tabloids, commercial operators online, apps on the phone – but also by the health care system itself. This as a rule without the slightest warning about the risks we reported above, and never ever with information about what set point is. This problem needs to be highlighted and discussed more in society in general. Feel free to share!