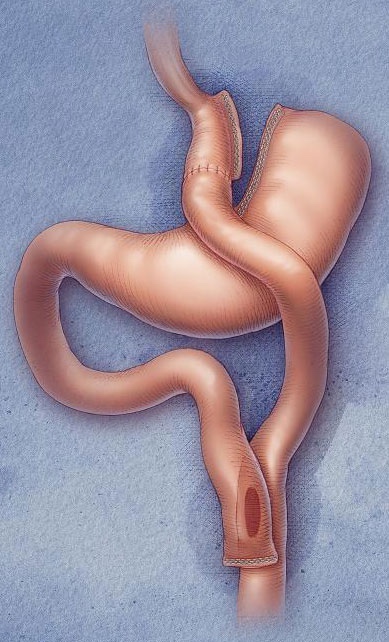 Basutbudet hos oss, liksom i övriga Sverige, är operationerna gastric bypass och sleeve. Dessa kompletterar varandra på ett bra sätt, både vad gäller för- och nackdelar samt effektivitet. För de allra flesta räcker det att välja mellan dessa två.
Men ibland ser vi ju specialfall; ett exempel är de med extra högt BMI (BMI över 50). Här kan en "vanlig" gastric bypass ofta vara fullt tillräcklig även i längden -men inte alltid. Vad ska man göra då?
Alternativ till standard gastric bypass
Vårt kirurgteam har forskat på alternativ till standard gastric bypass -du finner en lista på publikationer här nedan. För att inte göra det hela alltför tekniskt och komplicerat kan man säga att effektiviteten i operationen i viss grad kan justeras utifrån hur lång del av tarmen som kopplas ur (om extra långt avsnitt tarm kopplas ur, kallas det en distal gastric bypass) respektive hur lång del som är kvar från lillmagen till tjocktarmen -alltså hur många centimeter tunntarm som exponeras för födan efter ingreppet. Desto kortare detta avstånd är, desto effektivare viktnedgång -men också högre risk för biverkningar.
Ett nytt alternativ, vid höga BMI eller då en gastric sleeve inte visar sig fungera fullt ut, är operationen SASI (single anastomosis sleeve ileal bypass). Titta på vår informationsfilm här på sajten för mer info om SASI!
Vi kommer att gå igenom situationen för just dig i samband med våra nybesök med checklistning. Om du skulle kunna vara aktuell för någon av våra mer "speciella" ingrepp, så diskuterar vi det med dig. Då tar vi även upp vilka särskilda saker du kommer att behöva tänka på efteråt (exempelvis mer ambitiös uppföljning av blodprover m.m.).
Vetenskapliga arbeten om operationsmetoder
Leifsson BG, Gislason H. Laparoscopic Roux-en-Y gastric bypass with 2-metre long biliopancreatic limb for morbid obesity: Technique and experience with the 150 first patients. Obesity Surgery 2005;15:35-42.
Nergaard BJ, Leifsson BG, Hedenbro J, Gislason. HG. Gastric bypass with long alimentary limb or long pancreato-biliary limb-Long-term results on weight loss, resolution of co-morbidities and metabolic parameters. Obes Surg 2014;24:1595-1602.
Shah K, Nergard BJ, Fagerland M. Gislason H. Limb length in gastric bypass in super-obese patients – importance of total alimentary small bowel tract. Accepted for publication in Obesity Surgery.
Shah K, Nergard BJ, Fagerland M. Gislason H. Distal gastric bypass – 2 m bilipancreatic limb construction with varying lengths of common channel. Accepted for publication in SOARD.