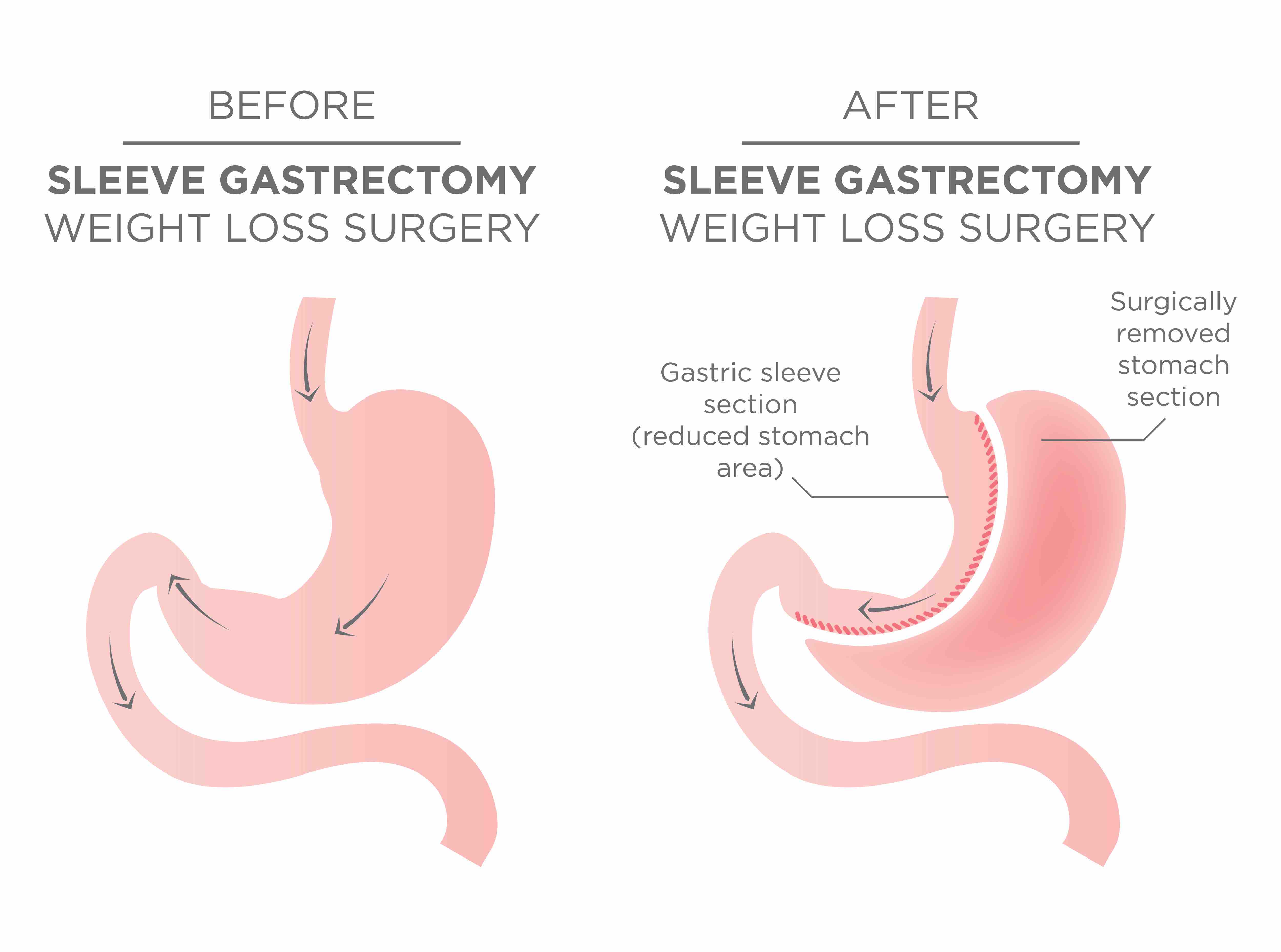 Gastric sleeve is the alternative name of this operation. It began to be performed in 1988, then as open surgery and as the first half of a more extensive surgery in severe obesity (biliopancretic diversion with duodenal switch). In the late 1990s, sleeve gastrectomy (SG) began to be made laparoscopic and after the turn of the millennium it was increasingly realized that a sleeve "alone" without subsequent bowel disconnection performed well for effective weight loss. After this, gastric sleeve quickly gained a rising popularity and is today the most common obesity surgery in the world, in Sweden it accounted for 45% of all obesity operations in 2018.
Why did sleeve gastrectomy quickly become so popular? Firstly, it is easier for a surgeon to learn (you avoid the intestinal disconnections in a gastric bypass operation), it is perceived as "milder" than bypass with less risk of dumping and no postoperative ileus.
Gastric sleeve mechanisms of action
How does a sleeve work? It is a gastric operation, where you surgically remove 85% of the stomach (you remove the "outer curve" of the stomach). However, you do not operate at all on the intestine. Removed part of the stomach is taken out of the body. There are several mechanisms of action: at the beginning it is clearly restrictive, i.e. the stomach is very small and limiting. In the long run, however, the effect on our hunger hormones is central; just as with gastric bypass, a gastric sleeve lowers our set point for weight in the brain stem to more normal levels. The daily routines required after an SG are the same as after a bypass -you have to adapt to the new anatomy of the stomach, as well as what you can now tolerate or can not tolerate eating and drinking: 5-6 small meals per day, at least 1.5 L of water per day, be physically active and take daily vitamin supplements.
Sleeve gastrectomy pros and cons
This is an excellent operation,as well as with bypass, it has pros and cons. There have been some misconceptions about sleeve gastrectomy; sometimes it has been described as "being able to eat the cake and still keep it" (i.e. gain effective weight loss without having to exert so much, avoid dumping risk and not have to take vitamins) which is definitely incorrect: a sleeve operated person needs to do their daily routines in exactly the same way as a bypass operated one. Exactly when a sleeve is the best to choose we do not know (that's why GB Obesitas is included in the BEST study). But the following has been our view based on clinical experience so far:
Gastric sleeve does not result in any increased ileus risk, unlike gastric bypass. You generally don't become as dumping sensitive (which is a bit for better or worse, some patients like that they can dump sometimes). Vitamin uptake is impaired, but probably less pronounced so than after a bypass.
The disadvantages are the risk of worsened reflux symptoms (heartburn, acid reflux) and unclear long-term effect on weight. The operation is also not possible to restore to normal anatomy. However, the effect on wieght loss of a sleeve if necessary (usually due to weight gain) can be strengthened with an additional operation: it can be turned into a gastric bypass or a SASI.
Will sleeve gastrectomy continue to be the world's most common obesity operation in 10 years? The future and -BEST study -will tell us this. Follow us!