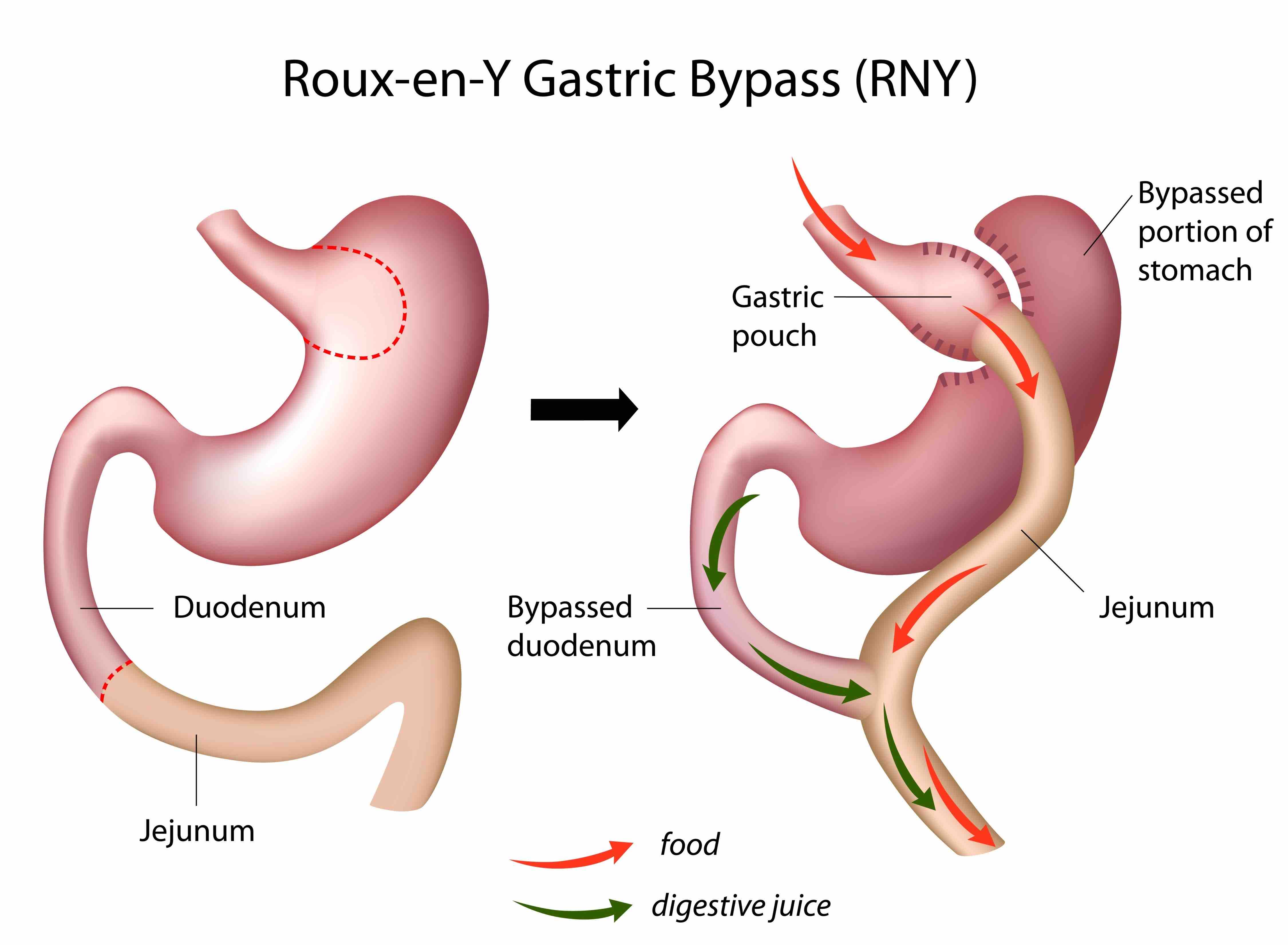 The gastric bypass (GBP) operation has actually been around for more than 50 years, the American surgeon Edward Mason published "Gastric bypass in obesity" in 1967. The first decades this was open surgery, nowadays it is always laparoscopic. We have gained the most knowledge about the long-term effects of the operation from the Swedish SOS study (Swedish Obese Subjects study). In SOS, a small proportion of patients had gastric bypass surgery, the rest had had gastric banding surgery or a VBG. Gastric banding and VBG (vertical band-reinforced gastroplasty) both had the same principle in common, so-called "restriction". In plain language: make the stomach smaller, so the person with obesity is forced to eat less and lose weight.
Now, however, gastric bypass proved to be in every way superior to banding and VBG in SOS and upcoming studies; it produced better weight loss and more other positive effects on health: including highly effective treatment of type 2 diabetes (even at BMI less than 35).
Gastric bypass effective
Why was gastric bypass more effective than the older methods of banding and VBG? All three procedures give the operated person a smaller stomach, but gastric bypass is different as it at the same time fundamentally counteracts the body's own defense against weight loss: a GBP leads to the body's so-called set point for weight (our "weight thermostat") in the brain being lowered towards normal levels. This is achieved via a variety of positive hormonal effects in the body, which in itself come out of the intestinal bypass that is done during a gastric bypass (but not during banding or VBG). You could say that the operation has its main effect on the brain – even though you only operate in the abdomen!
Gastric bypass benefits
What are the benefits of a gastric bypass operation? It is extremely well proven and over the years refined. We know very well how a GBP should be performed technically by the surgeon. The operation provides very effective weight loss and it lasts a lifetime. You get health effects at all levels (life is extended on average 6.7 years, it is effective treatment of type 2 diabetes, sleep apnea syndrome, osteoarthritis, PCOS, high blood pressure, cardiovascular disease, fatty liver disease, gout and more. In women, the risk ofdying from a cancer ishalved .).
… and cons
What are the disadvantages? Yes there is initially about 3% risk of serious complications (mainly bleeding and leakage). These can be remedied but often require new surgery. The long-term surgical risk is ileus (in this case also called mesenterial herniation) which comes from changing the anatomy of the small intestine during bypass surgery. Ileus results in acute blockage of the intestine and one must seek emergency medical care. They can be cured, but require a new operation. In the past, this was relatively common, the risk was 5-10%, while today it is prevented at the initial operation (one "closes the mesenterial defects"). Today, the risk is instead 1-3% approximately. Other more medical disadvantages are the risk of dumping (lowering of blood sugar and blood pressure after eating certain foods), increased sensitivity to alcohol and impaired vitamin uptake. The latter is easy to prevent with vitamin supplements -but studies prove this to be difficult to maintain for life for patients (who otherwise feel excellent as a rule and perhaps have lost their previous medicines…). More about both pros and cons can be found in the annual report from the Swedish Obesity Surgery Register SOREG.

Gastric bypass or gastric sleeve?
In recent years, gastric bypass has had a "cousin" namely sleeve gastrectomy (SG). We will talk more about this in the upcoming blog. Which of the two is best? Well, both are excellent, both have disadvantages. Exactly when which of them is "best" … we actually don't know for sure. This is being studied in Sweden via the BEST study (where GB Obesitas is involved).
Want to know more? Join us for the next information meeting!